EL MISSIONER (The missionary)
"Universal aren't friends with the neighbourhood pharmacist, they're friends with Bayern."
Text by Isis Martín and Aleix Fauró
Directed by Aleix Fauró
Dramaturg: Isis Martín
"By the time he puts the key in the door lock, he goes up the stairs two at a time and falls asleep listening to C. Tangana. He's thinking about a star dressed as the pope fucking the whole nation. There we got the idea of cultural colonialism, it's truly there where the name of the show comes from."
Do you imagine that the new hit of Bad Bunny talked about the scam of the preferred shares? Do you imagine that Dua Lipa or Black Pink published a videoclip about the class consciousness or about the crisis of 2007? Do you imagine that Ed Sheeran abandoned his romantic love for a moment and dedicated a ballad to the pensions? Probably no. The mainstream videoclip, the audiovisual product most consumed by young people across the world, acts as a cultural colonizer exporting the values such as racism, classism, aporophobia, fatphobia and the dictatorship of the aesthetics, the "sexcracy", love as a commodity and, in the end, the most harmful capitalism.
With live music, text, movement and projections, The Missionary reflects about these values of the musical industry from the irony, to raise awareness and deconstruct them. We promise not to bore you although we maybe talk about product placement or other possibilities of social organization. Even if we assert that music videos are a massive submission weapon. Ready? Let's Dance!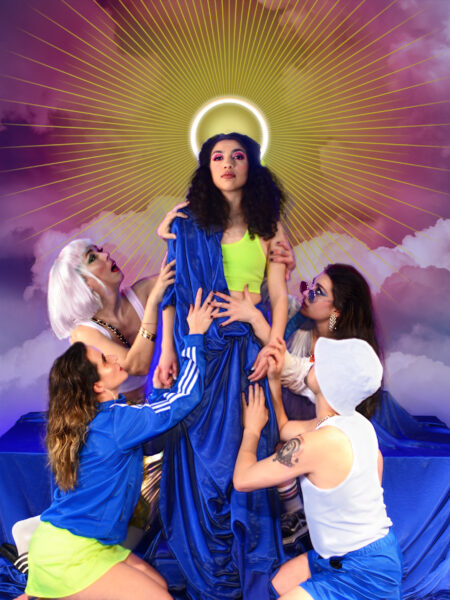 Author
Isis Martín and Aleix Fauró
Directed by
Aleix Fauró
Dramaturgy
Isis Martín
Directing assistant
Júlia Valdivielso
Internship directing assistant student (MUET)
Mohamad Bitari
Cast
Esmeralda Colette, Guillem Gefaell, Maria Garrido, Isis Martín i Alba Sáez
Movement design and coreography
Patrícia Bargalló
Soundtrack and sound design
Clara Aguilar
Lighting design
David Bofarull and Mario Andrés
Video design and projections
Francesc Isern
Scenic design
Paula Font and Paula González
Scenic design and vídeo support
Mariana Echeverri
Costumes
Berta Riera
Internship costume assistant (IT)
Ivan Garcia
Graphic design
Oscar Llobet
Photography
Anna Miralles
Promotional videos
Àlex D. Sala
Executive production
Júlia Ribera
Executive production assistant
Júlia Barragán
Communication
La Virgueria
Internship communication student (UB)
Sílvia Casas
Economic management
Maria Sangüesa (IACTA)
Pedagogical advice
NUS Cooperativa
Executive production
La Virgueria, Grec 2022 Festival de Barcelona, Teatre de Lloret, Fundació Joan Brossa – Centre de les Arts Lliures, amb el suport de la Generalitat de Catalunya (ICEC).